In the 2020 catalogue, Edelweiss explores product storytelling as a new way to bring the holiday feeling onboard and encourages crew members to share their recommendations in terms of favourite travel spots and the must-have products depending on the destination you're headed to.
To play it safe, passengers have the possibility to download the Inflight catalogue before departure on their mobile phone or any other electronic device. This guarantees a hygienic and safe shopping experience onboard.
The combination of storytelling and crew recommendations will ensure that passengers have access not just to the product information, but also the journey from idea to product and why these items should be included on your must-have list.
Catalogue Highlights
Retail inMotion joined forces with Edelweiss' Product & Marketing team to develop a catalogue that has a clean, yet appealing design. In short, it offers the best of both worlds: a look that stays true to the carrier's corporate identity and takes passengers' needs for information and entertainment into consideration. 
The design for the Inflight Shopping catalogue was developed in-house for the very first time. The collaboration between Retail inMotion and Edelweiss boosted the interplay of onboard retail expertise with unique expertise on Swiss inflight business.
Because product storytelling can only get you so far, Edelweiss is adding crew choices to the mix, where cabin crew members have the chance to present their favourite products and explain why they prefer them. These pages, like the one below, give them the opportunity to recommend their favourite destinations to passengers, along with products that will come in handy on those trips, thus boosting the onboard retail experience.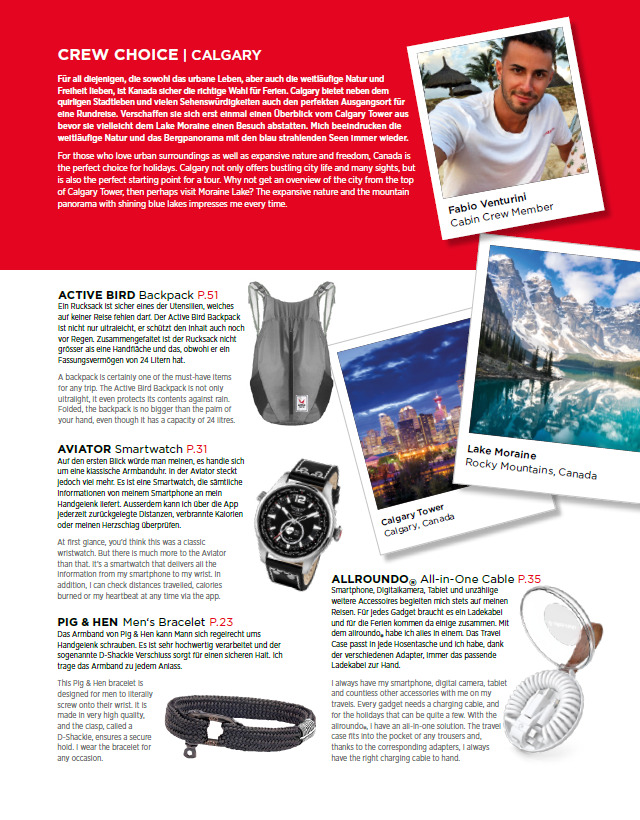 This catalogue aims to satisfy all tastes, which is why it offers a healthy mix of commercial products (such as Yves Saint Laurent Touche Éclat and Calvin Klein Sheer Beauty), sustainable items like Bergson Ocean Watches, Bracenet Bracelet or Elari rechargeable batteries, as well as products that are typically Swiss (Victorinox watch). And, since many people already have Christmas on their mind, we've made sure that all these products are great holiday gifts. Christmas shopping can be exhausting, so why not scope out sales early to beat the rush?

Last but not least, sustainability is once again front and centre. In addition to focusing on sustainable products and the inspiring stories behind them, the actual catalogue is printed on environmentally friendly paper.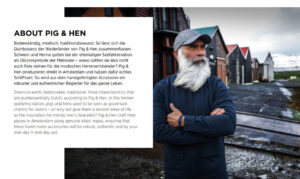 Product Sneak Preview
The list of products included in the new Edelweiss catalogue includes the Bracenet Unisex bracelet, which is handmade from old or savaged fishing nets, also known as "ghost nets" that drift uncontrolled through the water and can become death traps to ocean life. A part of the profit is donated to "Healthy Seas", an ocean protection organization that cooperates with partners to ensure these nets are salvaged.
Speaking of bracelets, aviation enthusiasts will love this one! EIGHT8R is a unisex bracelet made out of ultra -lightweight carbon combined with a tear-resistant parachute cord. Furthermore, the product uses authentic aviation-related materials. The bracelet, which comes in one size, features an adjustable closing loop to allow for an easy handling. Earlier this year, the company, which was founded in 2017, joined forces with the charity organization "Pilots for Charity" to help sick and disabled children fulfill their dream of flying. For one day, the little ones can become pilots and experience all the excitement via a simulator.
For passengers interested in a quality timepiece, Bergson Ocean is a Christmas gift anyone would appreciate, as it goes with any look, from business attire to casual apparel. The strap is made from 100% recycled PET bottles by the well-known Danish company KVADRAT. Bergson watches combine down-to-earth, maritime-inspired style with sustainability.
Finally, if you need something that is both functional and sustainable, this product is for you: two AA EcoBatteries with a USB connector for charging. The batteries are not only cost-effective, but also environmentally friendly.  Each of the batteries can withstand up to 500 charging cycles, which means that one EcoBattery replaces 500 disposable batteries. This puts things into perspective, doesn't it?