Retail inMotion is working toward creating a corporate culture of sustainability.  
We introduced a new category for the SunExpress Catalogue Winter 2019/2020: "We Care", which aims to offer passenger an assortment of products with a sustainable character (be it ecological, social etc.). The products listed on the "We Care" page (Figure 1) change on a regular basis due to seasonality and market trends.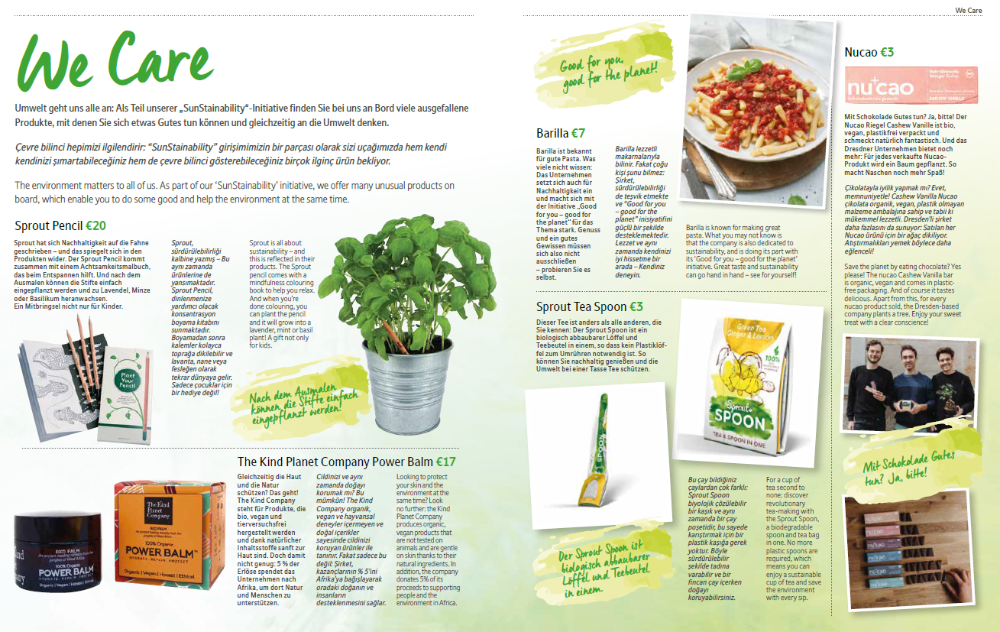 Furthermore, all the products that are part of this category have a "We Care" bubble (Figure 2).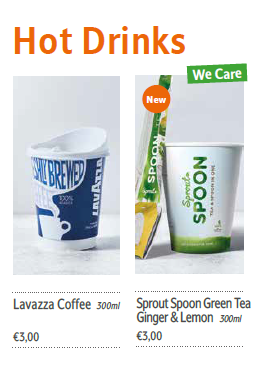 "We Care"
What does Retail inMotion want to achieve with the new "We Care" category? First, we'd like to raise awareness and offer tangible solutions (like choosing Sprout Spoon Green Tea, pictured above). Second, we wish to offer passengers aboard SunExpress flights items that enable them to make a positive contribution to the world.
Products
Plastic spoons, plastic cups and stirrers have been phased out, and Retail inMotion is doing its part to reduce single-use plastic. We joined forces with SunExpress to offer a sustainable alternative to plastic spoons and stirrers: Sprout Spoon, a 100% biodegradable spoon and tea bag in one. All you have to do is unfold and brew it in hot water for a cup of delicious tea. Plus, all the aspects of this revolutionary tea spoon are designed to leave no trace on the environment as the product is fully biodegradable. Sprout Spoon can be found in stores and aboard SunExpress flights out of Germany.
Barilla may be known for making great pasta but the company is also a force for good. The brand is doing its part with the 'Good for you – good for the planet' initiative, which represents their guiding principle and reference point for every product produced. Learn more about their sustainability efforts here. Barilla Maccheroni Tomato & Basil can be purchased aboard SunExpress flights out of Germany.
nucao's Cashew Vanilla Chocolate Bar, an organic, vegan and gluten-free chocolate bar that's full of natural nutritious hemp seeds and nuts and is sweetened with a tiny bit of coconut blossom nectar gives passengers the chance to save the planet by eating chocolate. The company contributes to decreasing the plastic epidemic by using plastic-free packaging. Plus, for every bar sold, one tree is planted in collaboration with "Eden Reforestation Projects." To date, nucao have planted over half a million trees, an activity which makes a real difference to climate change.
The "We Care" category also includes a couple of Boutique products, namely Sprout Pencil and Kind Company Power Balm. Sprout Pencil, just like Sprout Spoon, is all about sustainability; it can grow into fragrant herbs, luscious flowers, or even fresh vegetables. This product comes with a mindfulness coloring book to help you relax (yes, adult coloring can actually relax your brain) and, when you're done coloring, you can plant the pencil and it will grow into a lavender, mint or basil plant!
The balm produced by the Kind Planet Company is organic, vegan and is gentle on skin thanks to its natural ingredients. In addition, the company donates 5% of its proceeds to supporting people and the environment in Africa.
We Care: What's next?
This summer, the collection of sustainable products that can be purchased aboard SunExpress flights will welcome a couple of new items, including batteries that can be charged via USB and a watch with a strap made out of 100% recycled PET bottles.
We are committed to our sustainability journey and to growing our "We Care" initiative. Stay tuned to our social media channels for exciting new sustainable products included in SunExpress' summer catalogue!
'We Care' is off to OBH finals!
The 'We Care' page recently got a nod in the 'Catering Innovation of the Year' category at the Onboard Hospitality Awards for offering sustainable products in Duty Free and Food & Beverage through one merged programme.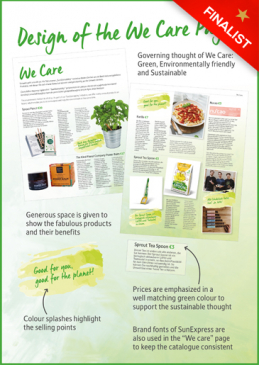 The winners of the Onboard Hospitality Awards will be announced online and at World Travel Catering & Onboard Services Expo (WTCE) in Hamburg on March 30, 2020.