Drum roll please! The results are in and Retail inMotion, in partnership with Swiss International Air Lines (SWISS), has been honored with a prestigious Onboard Hospitality Award for the SWISS Saveurs program. The onboard ordering program was selected last night as "Catering Innovation of the Year" by a jury of prominent industry leaders.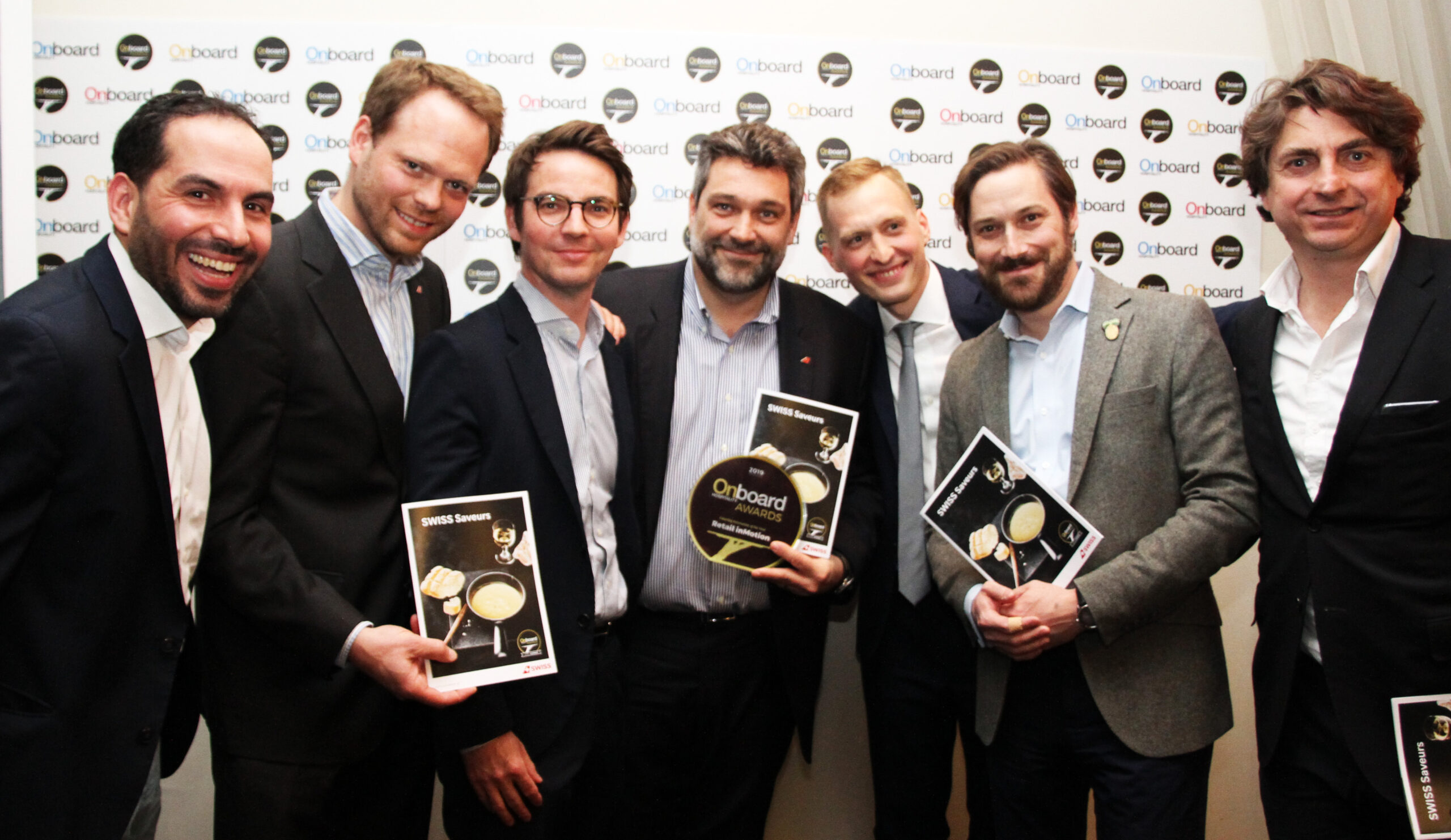 Swiss International Air Lines introduced SWISS Saveurs on their flights from Geneva in May 2018. Co-developed and managed by Retail inMotion, the unique onboard program allows Economy Class passengers the opportunity to upgrade their inflight experience by purchasing authentic Swiss-inspired dishes, gourmet sandwiches, hot & cold snacks, and beverages. As part of the program, the exclusive portfolio of food & beverage products is also made available to Business Class passengers at no additional cost.
After an extensive period of product development, a portfolio of new perishable products was developed by Retail inMotion with iconic Swiss retailer & delicatessen Globus, in close partnership with the airline.
As per SWISS requirements, the Retail inMotion team focused on healthy, fresh and – crucially – Swiss ingredients. The food offering drew on local flavors and favorites, like a "planchette" served on a wooden board, and gourmet sandwiches, like the traditional Genevan "Maxi délice poulet pavot" and "Geneva Ham Signature Delice" sandwich. All ingredients used are fresh, tested meticulously for inflight consistency and quality, and selected to cater for both local and international passengers.
Additional brand associations included BISA for tartlets, Caotina for Hot Chocolate, Manuel for Pralines, Gerber for Cheese Fondue and many others. The introduction of the cheese fondue in particular received national attention, with articles in several newspapers and national TV coverage on popular late night chat show "Deville".
The onboard retail experts at Retail inMotion continue to create new, exciting introductions for the SWISS Saveurs program – from March 2020, the team has exclusively introduced on board "The Beer of Western Switzerland", a Swiss Pale Ale developed and brewed by La Nebuleuse Microbrewery (a popular, hip beer brand from Lausanne).
"We are honoured to be recognized with this accolade from Onboard Hospitality. We poured inspiration, creativity and expertise into developing the SWISS Saveurs program," comments Stefan Patermann, CEO Retail inMotion. "The result is a ground-breaking program, which perfectly demonstrates how a retail program can underscore an airline's brand values. With the selection of more than 90% local brands, we have created a program that reinforces the SWISS brand image, transports the idea of 'Swissness' to the passenger in every detail and develops clear differentiation in the onboard retail segment."
"Our collaboration with RIM did enable us to realize our vision of what a premium on board ordering program should be: fresh, local and appealing. We are extremely proud of receiving this award which stresses our quest for quality and onboard experience," says Lorenzo Stoll, Vice President and Head of Western Switzerland at SWISS.
Retail inMotion is an onboard retail expert for the travel industry. Its culture of collaboration and innovation continues to help it steadily strengthen its position in the global onboard-retail industry. Retail inMotion offers proprietary products, solutions and services in onboard-retail IT technology, crew training, product distribution, inflight entertainment and fully outsourced onboard-retail services. www.retailinmotion.com
Retail inMotion is one of the four expert brands belonging to the LSG Group alongside LSG Sky Chefs (catering and hospitality), SPIRIANT (equipment solutions) and Evertaste (convenience food). The LSG Group is the world's leading provider of end-to-end onboard products and services. In 2018, the companies belonging to the LSG Group achieved consolidated revenues of EUR 3.2 billion. www.lsg-group.com