After having held a very successful first "Night Full of Stars" in 2018, Retail inMotion has organized the event once again to recognize the hardworking Eurowings retail crew!  This year's "A Night full of Stars" took place at the "Alte Versteigerungshalle" in Cologne, Germany. At the end of March, around 60 of Eurowings' finest crew members joined in from their stations across Europe as they were recognized for outstanding salesmanship on board.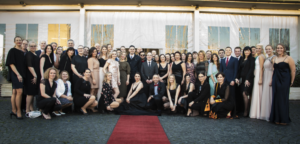 Out of around 5,000 Eurowings crew members, the "Top 60" crew members were selected to attend this year's event via a sales competition that ran during summer 2018 and winter 2018/19. On each Eurowings flight, the Retail inMotion team set sales targets for the crews, based on individual flight routes. The individual crew members worked together on their flights to meet the targets and be entered into the competition. At the beginning of January, the numbers were crunched and the top performers were identified for this special award ceremony. This year's crew participation rose to a new level as last year's winning crew came back reporting from celebrations and motivating their colleagues to be a part of it all.
The award-winning crew members were invited to the Product Roadshow day-event at the LSG Sky Chefs facility in Cologne, during which they had the opportunity to learn from various supplier stands and experience the new boutique product selection for summer 2019. The updated food and beverages selection being sold on board was also available for the crews to taste. "This is crew engagement at its best!" commented Patrick Heitmeyer, Manager Crew Engagement Europe and member of the organization team. "The day started by showcasing the new Eurowings product line for the summer to both crew winners as well as those based in Cologne. It was wonderful to see this diverse crew community from around Europe come together to this kick-off event. The awards dinner afterwards allowed the crew winners to mingle, exchange ideas, and simply enjoy their reward for a year's hard work, motivation and determination."
After the "Product Roadshow" and with the coming sunset, the Eurowings crew members got picked up and arrived at the gala's evening location. Special guests Oliver Wagner, Chief Commercial Officer Eurowings, Thomas Labonde, Vice President Customer Experience, Marketing and Branding Eurowings, Katrin Rieger, Vice President Customer Experience and Innovation Eurowings, Frank Theis Vice President Sales, Product and Marketing LSG Group and Simon Herkenhoener Head of Global Business Development LSG Group, were all in attendance to recognize and congratulate the honorees for their hard work. The event was moderated by the Head of Onboard Retail Europe for Retail inMotion, Jose Lirio Silva, who, with three sponsors, revealed the Top 3 sales crew and honored these for their great performance. After the ceremony, the entire crew was invited to celebrate, dance and socialize on the dance floor and bar.
"This year again, we wanted to make it about the crew and hope this came through" commented Paulina Otto, Junior Project Manager Retail inMotion and member of the event organization team. Eva Niemietz Project Manager and also member of the organization team pointed out that, "We saw a lot familiar, but also new faces, which tells us our efforts were worth it! We are looking forward to next year's event!"
With two such successful events performed, Retail inMotion is looking forward to continue this crew incentive for 2020.