We hope you're enjoying our #ADayInTheLife series!
If you're new to the series, here's what you need to know: we're asking employees from various departments to tell us more about how they approach their work day, from managing their time, to work-life balance, to their hobbies. After all, what better way to showcase our workplace diversity than to get them to walk us through an average day?
Today, we'd like you to meet Ole Jansen, Operations Manager at Retail inMotion.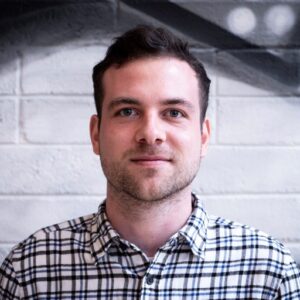 Name: Ole Jansen
Position: Operations Manager
Location: Frankfurt, Germany
Team size: 3 
Years of experience: 10
Describe your typical work day
9 am – Morning routine
My usual working day starts with checking emails and missed calls over the weekend to get a quick overview of the program's operational status. As we had some IT issues over the weekend, I am connecting with our IT Department to see if I can support investigations or if there is already a fix in place, which could solve the issue.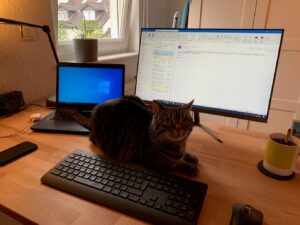 A visit from my cat Findus (who is probably better known at RiM than I am by now) and a cup of Lyons tea (my Irish side) complete my morning routine.
9.30 am – Connecting with colleagues
Calling my colleague Luca Schlosser to discuss the topics for the upcoming weekly operations call. As Luca, myself and another colleague are in the same team, staying connected on a daily basis is a necessity.
10 am – Weekly Programs OPS call
Review of operational issues, improvements, and future developments with our operations counterparts from the airline and the caterer.
11 am – Lunch and driving to the warehouse
12 pm – Site visit warehouse
Maintaining a good relationship with the warehouse staff is another important aspect of my job. Even with the current situation, a face-to-face meeting cannot always be replaced by a video call. Therefore, we usually plan to stop by the warehouses at least once per month to discuss the newest operational development, support with issues, check defective printers, and more. 
3.30 pm – Driving back home
4.00 pm – Rework of the Site visit
Documentation of the checked printers and informing our colleagues from the hardware department about the printers and the defective reasons. Later this week, I will have to organise a transfer of the defective printers to the manufacturer.
4.30 pm – Internal OPS meeting
As already mentioned, staying connected with my colleagues is very important. Hence, we have an internal alignment call twice per week to discuss all topics related to operations and the Retail Programs.
5.15 pm – Seal and Security Process meeting for a new Onboard Retail (OBR) project
My work involvement is currently not limited to the daily operations, but also includes implementations of new OBR programs and supporting the drafting of request for proposals (RFPs) for potential new customers. This meeting brought different stakeholders together to identify the requirements of a seal and security process for a new OBR program.
6.30 pm – Finishing the day
The last minutes of my day at work usually involve recapping the whole day, replying emails and for today, writing #ADayInTheLife to give you some ideas on how a typical day as a RiM Operations Manager looks like – although I have to admit: no two days are the same